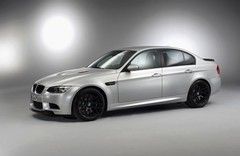 This is the BMW M3 CRT, unveiled at a launch party at the Nurburgring last night. It's a lightweight low-volume special edition based, oddly, on the saloon version of the M3 rather than the coupe.
It's also the closest thing in this generation of M3 to a CSL that we're likely to see (though you might argue that the GTS was that). 'CRT'-style models are part of the future of the M division, however, say our spies at the 'Ring, and we can even expect to see something like this on an M version of the new 6-series.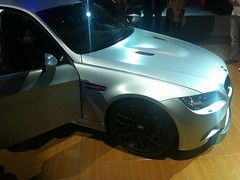 But back to the M3 CRT. Those initials apparently stand for Carbon Racing Technology, and mean that buyers will get all sorts of trick stuff such as carbon-backed, seats, and various lightweight gubbins from the M3 GTS. In total, the weight saving over a standard M3 saloon is 50kg, meaning it pitches in at 1580kg.
The 450hp engine is also taken over from the M3 GTS, and provides what you might call a generous 180mph top speed.
Just 67 cars will be built (that's 65 for customers, and 2 'press' cars), with 20-25 expected to come with the steering wheel on the right-hand side. And they'll be built at a price. If you want one, you'll have to part with around £115k for the privilege.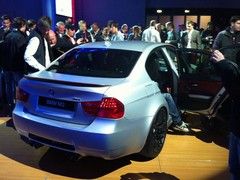 If that price doesn't put you off, order books are open now, and you can put your name down at any BMW dealer...
Cheers to Tony Hetherington for the info, we're not so sure about the quality of his pics... (only joking, Tony...)