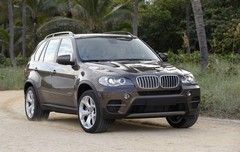 The BMW X5 is getting a spring facelift, with an emphasis on increased power and efficiency. All iterations of the X5 are getting more grunt, and there's a new top-of-the-(non-'M')-range xDrive50i knocking out 408hp.
The xDrive50i is a replacement for the xDrive48i, and packs an extra 53hp. Torque is also up from 350 to 442 lb ft and 0-62mph is down by a full second to just 5.5 seconds. The extra thrust comes courtesy of a revised twin-turbo V8, apparently the first of its kind to have a catalytic converter located in the vee of the cylinders.
The rest of the X5 range gets moderate power boosts, with the entry-level xDrive30d getting an extra 10hp making 245hp in total, while the xDrive35d gets dumped in favour of a new xDrive40d which is 20hp more powerful at 306hp. All of the revised powerplants meet harsh EU5 emissions standards and see small improvements in MPG to boot.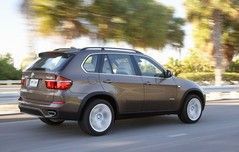 Across the range the X5 gets a new standard eight-speed automatic gearbox, which apparently increases smoothness and decreases emissions. There's also a mild aesthetic retouch, most significantly with a revised front bumper containing enlarged vents, sending more air to the engine and brakes. There are tweaks to all of the light clusters, and a redesigned rear bumper containing two fatter exhaust pipes.
Unsurprisingly along with power, price has increased across the range too. The base model X5 is up from £41,715 to £43,980, and the xDrive50i M Sport costs £2475 more than the xDrive48i M Sport (sheesh, these names...) it replaces at £58,175. A basic X5 is now nearly seven grand more than an equivalent (but more powerful) Porsche Cayenne, but remains cheaper and more powerful than the Range Rover Sport across most of the line-up.
The facelift does not seem to have affected the X5M just yet.