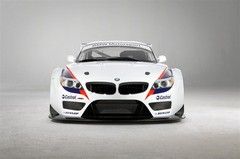 BMW has taken the wraps off the racing version of it Z4 sports car, revealing possibly the hardest-looking Z-car ever created.
As we revealed when we first reported on BMW's plans for a Z4 racer in December last year, the GT3-spec BMW Z4 gets a race-spec six-speed sequential gearbox (not to mention some insane aero addenda) and a Type-408 racing ECU with a Power400 Control Unit. This helps to push the engine - which is the 4.0-litre V8 borrowed from the M3 road car - to 480bhp.
ABS is standard, but air conditioning is available as an option - this is a car designed for endurance racing, and air-con is pretty much an essential for some of the globe's hotter 24-hour events such as the Dubai 24 hours.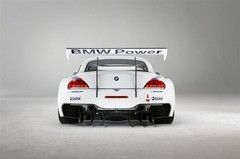 The new Z4 is available to private teams and customers for a snip (just 298,000 euros to you, sir) and is eligible for any championships run under GT3 regulations, including FIA GT3 European Championship, as well as numerous endurance events, including the Nurburgring 24 hours.