Fresh from its takeover of Dutch supercar company Spyker, CPP Global Holdings Ltd, the specialist coachbuilder based in Coventry, has snapped up Bowler Off Road Limited.
The Derbyshire-based manufacturer of the Nemesis high-performance cross country racer was acquired for an undisclosed price in January, we learn from a new press release. (So yes, we missed the 'scoop' when we chatted to CPP boss Brendan O'Toole about his Spyker plans in Geneva...)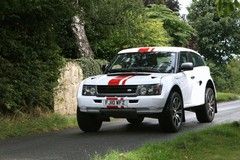 The road-going Bowler Nemesis...
"This acquisition is extremely positive news for fans and customers of Bowler vehicles. I have followed the brand closely for several years and am delighted to have the opportunity to take the Bowler brand to new heights on the basis of very exciting plans," Brendan says in the press statement. "This development is another step in CPP's strategy to grow as a collection of complementary specialist automotive businesses."
Drew Bowler is managing director (and founder) of Bowler, and says this: "CPP will bring first-rate commercial and manufacturing expertise to our business, ensuring it meets the quality and integrity that our customers will expect. And there are dramatic plans for the business over the longer term."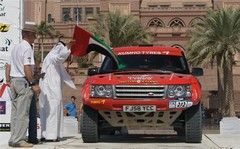 ...and the racer.
Bowler was founded in 1999 and produces the Nemesis high performance off-road racer, based on current Land Rover technology, to meet the FIA T1 specification for the World Cup Cross Country Championship. Development and engineering will remain at Bowler's current facilities in Belper, Derbyshire, but production, including of the Nemesis EXR road-going variant from early 2012, will be transferred to CPP in Coventry.
Further plans will be announced in due course, they say. Intriguing stuff, and certainly good news from the point of view of anyone interested in an EXR road car. CPP has a peerless reputation for build quality and bespoke craftsmanship - which is why it's contracted to make cars like the One-77 for Aston Martin. We look forward to seeing where that new expertise takes Bowler.