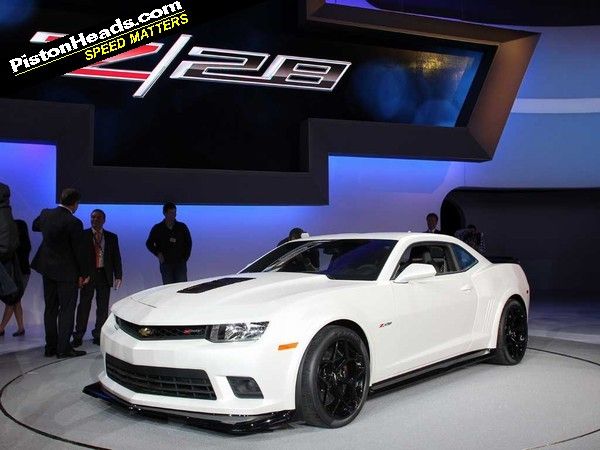 You know a press conference is going to be good when you get handed ear plugs. And, no, not because the speech is going to be dull...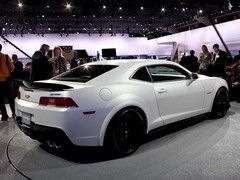 A lightweight track car, American style
So to the stage the new Camaro Z/28. And, let's face it, there wasn't ever going to be any point trying to match the 1,200hp
Shelby GT500 S/C 1000
. So GM has gone a slightly different route, stripping out weight, sticking with a normally aspirated engine and going for a more track focused set-up rather than simple horsepower bragging rights.
OK, this is no 911 GT3. 'Stripped back' in the current muscle car arms race means a 7.0-litre LS7 V8 from the Corvette Z06 with 500hp and 470lb ft of torque. But it's a racy engine, with an 11:1 compression ratio, titanium con-rods and intake valves, high-flow heads and dry sump lubrication. Good old fashioned tuning in other words and a classically American approach to it too. If in doubt, make it bigger. The pistons themselves are 104.8mm in diameter with a 101.6mm stroke - a fair amount of mass moving about at 7,100rpm and with the revised intake system capable of ingesting 100 cubic feet (we'll stick with Imperial measurements here!) more air per minute than the LS3 V8 in the 426hp Camaro SS.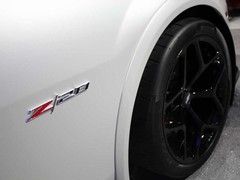 Sticky rubber predicted to lose the fight with V8
It looks great too, sticky Pirelli P-Zero Trofeo R trackday tyres completing the 'ready for the track' vibe and ready to make good on the weight saving build. Ultimate firepower fans can still opt for the 580hp supercharged ZL1 but the Z/28 is the one you want if your Camaro as interested in corners as it is straight line heroics.