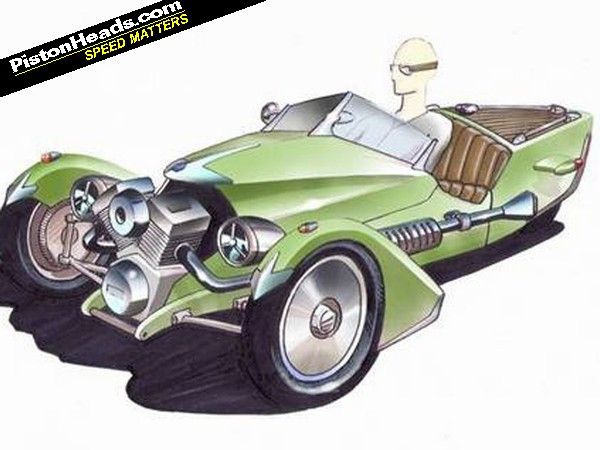 An afternoon scouring eBay can throw up all sorts of automotive oddities, but a whole car company?
That's what we found yesterday: that's right; the trademarks, designs and components of a registered automotive firm were, until last night, up for purchase on eBay. The same ad on another site is still live here.
How Jaguar started: the Swallow sidecar
It's not just any car company either; it's a rejunvated Swallow Coachbuilding Company, originally created as the Swallow Sidecar Company by Jaguar founder William Lyons.
We spoke to director Peter Schomer, who told us his plan was to build a three-wheeler in the vein of the latest Morgan but using a Harley V-twin engine and styled with a nod to the original aerodynamic looking sidecars.
Seven years later and it hasn't worked out. Now he's asking £125,000 for the blueprints, components to build a car and all the trademarks. He'll consider a swap for a "vintage sports or racecar".
He claims to be in talks with Harley about selling the car in its motorbike showrooms, but the eBay sale hasn't been a success. Too many timewasters and tyre-kickers, he said.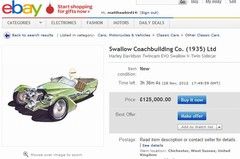 Less kit car, more kit company
Schomer, a Canadian, is an interesting character. He's also got the rights to famous F1 engine builder Coventry Climax, using the name on a fancy-looking range of watches.
Swallow itself is an illustrious name. Swallow Coachbuilding Company Ltd was formed in 1935 to continue building sidecars, Lyons' original business venture, while S.S. Cars (to become Jaguar after WWII) fronted his four-wheeled offerings.
Who knows? What with Morgan kick starting the trend for retro three-wheelers, maybe now's the time to offer up some competition?