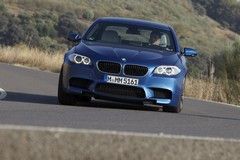 Carbon-ceramic brakes will be an option on the latest BMW M5, and could be on sale by the end of 2012, according to BMW's Purschasing and Suppiler Network boss, Dr Herbert Diess.
That font of much knowledge of things BMW, Bimmerfile, has revealed that BMW is working on a carbon-ceramic brake package with Brembo for the M5 (and consequently also the M6). It also points out that Brembo and SGL Carbon have established a joint venture to manufacture carbon disc brakes, and that SGL Carbon already has a more general deal with BMW to develop carbon fibre for use in its passenger cars. Happy families all round, really...
Apparently, the calipers will be the same whether they're grabbing steel or carbon discs, but the larger disc diameter will mean that it will be necessary to fit 20-inch wheels to carbon-shod cars.