Mallory provided tight, exciting battles - as did all the races
"It's going to be a destruction derby, the final round of a season always is." These were the prophetic words of RacingPete as we discussed the fast-approaching Mallory Park meeting, Round Seven of the PistonHeads.com Caterham Academy and my last chance to nab a bit of silverware (oh all right, nameless metalware) for the PH office.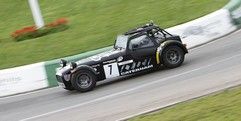 last race of the season (sniff)
I was feeling fairly confident about Mallory as a test session earlier in the week, despite having only yielded 45 minutes of track time, had given me just enough laps to learn the finer points of the circuit and post some reasonably respectable lap times.
Besides, after the previous round at Brands hatch I was in a comfortable fourth place in the championship, and just three points behind nabbing an overall third from Tim Abbott. Provided I finished in the upper half of the field, my fourth place was safe, while a good race for me and a bad one for Tim might just secure third.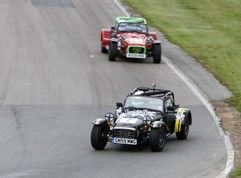 Ahead of Kurt in qualifying
A qualifying session spent sharing a tow with Academy fast man and champion-elect Kurt Brady put me in second place on the grid, just ahead of Kurt and behind Brands winner Ross Macindoe (although it could so easily have been otherwise - the first 14 cars were separated by just 1.05secs), so things looked good on the grid.
Even so, I knew from a day spent marshalling that Mallory was an unforgiving place should things go wrong and I feared that Pete's predictions might come true; the trick was surely going to be to avoid the carnage.
So it proved. I fluffed my first front-row start and was down to fourth at the end of the first lap when a multi-car pile-up that had happened earlier in the lap behind us caused a red-flag to be thrown. The first two cars backed off at the first sign of a red light, but an unsighted David Menzies in third went hard into the back of Ross Macindoe's car, sending Ross into a tailspin right in front of me and himself into the pit wall and a fairly dramatic roll.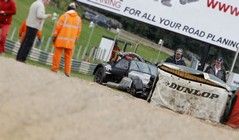 David Menzies' car after his roll
Fortunately I was far enough back to thread my way through, although bits of disintegrating Caterham created several cracks in my windscreen, and bullet-style holes in my headlights. As we cruised further round the track the cause of the red flag was obvious - two cars stranded in the gravel and one on its side
beyond
the Armco barrier.
It turned out that three cars had gone into the second corner side by side, one (James Needham) carrying on and two spinning (Chris Bingham and Tim Abbott), while Andy West's car was tipped into a dramatic series of cartwheels. Thankfully nobody was even slightly injured in all this (You can have a closer look at the action in the videos and pics at the bottom of this article to see how amazing that is), but the net result was that five cars were missing from the restart, and several others were severely bruised.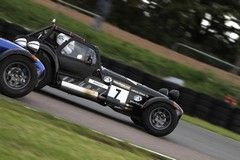 trying to hold on to second place
My second start was somewhat better - I even managed to spend a lap in the lead while we all tried to slipstream each other before Kurt got through. He was followed by a fired-up Martin Pass, who was still chasing a potential championship win.
I managed to get second back from Martin with a (possibly over-brave) dive up the inside into the first corner, a move he nearly replicated at the super-tight Shaw hairpin with a late lunge that resulted in a smoky lock-up that sent him too deep into the corner.
Martin spent the rest of the race fending off Ross in fourth, while I set about chasing Kurt - in vain. We were separated by just 1.3secs at the end.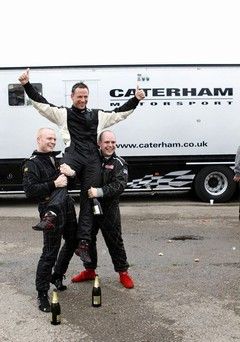 Riggers refuses to let his champagne go
So my first win may have eluded me, but I swear a victory would have felt no better. I ended the season with my best result, and - admittedly due to Tim Abbott's bad luck - I was third overall in the championship. By a single point.
Over in Group 1, Wes Fox took the race win, making it three out of four race victories, and landing him the championship trophy, while Rockingham race winner Jon Mortimer took second in the championship, and Merlin Edwards the final podium spot.
So that's it. It's been a pretty amazing experience, this racing thing, and I've fulfilled so many ambitions that I never dreamed of achieving: racing at Brands Hatch, having a pint in the Kentagon (as a competitor) the night before a race, standing on a race podium, being given a trophy, spraying champagne. They sound like little things, but they all add up.
I've also enjoyed fantastic banter and some great racing with people who I would not hesitate to universally call friends. This might sound like I'm being too gushing, but it really is that good. If you're thinking about doing it, go for it (though you might have to wait until the 2012 season now). Sell parts of your body to science if you have to. It's worth it.
Pics: Rachel Horgan and James Gray

And now for the main feature... (well, the crashes)