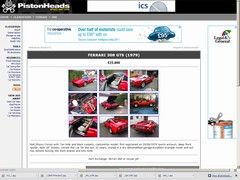 Today, we're introducing some changes to the way in which we charge private advertisers to sell their cars on PistonHeads. Gone is the option of a basic advert, but we're greatly reducing the cost of a premium advert to improve the quality and content of all advertisements on the site:
Cars for sale ads will now cost just £9.99 for 30 days on the site, with up to nine images and as long a description as you can dream up.

Long-term PH forum members have received free adverts for some time now, and we have reduced the membership term needed to qualify. Now, if you have been a PH forum member before 1st January 2009, you will qualify for ads FREE OF CHARGE. From now on, we'll bring this date forward periodically to continue to reward long-standing contributors to the site.
We won't be charging to advertise spare parts, non motoring, big stuff or bikes.
PistonHeads has seen massive growth in its classified site over the past couple of years. We're now the 2nd-biggest motoring site in the UK and attracted more than 10 million visits in the past month alone. Much of the growth we've seen in our classifieds section has been from advertisers of more mainstream cars, and we're happy to charge a small amount to these advertisers to enable PHers to continue to advertise their (often much more interesting) cars free of charge. It's the antidote to a 'new customers only' mentality, if you like.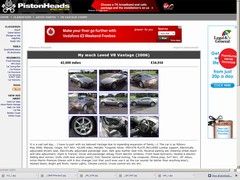 We also believe that we're great value. If you are asked to pay for your advertisement, a cursory glance around our competitors suggests that a similar advertisement on
Auto Trader
, for example, would cost from £35 for two weeks for cars valued at more than £1000. Selling your car on PistonHeads offers 30 days of effective advertising for just £9.99.
We've also spent a year developing a super-fast new classifieds site with some great new tools to help PHers lose even more of their working day searching for their next car. We'll be unveiling this soon and, if you're a regular browser of our classifieds, frustrated with some of its limitations, you're going to love what we've got lined up for you...
Thanks for your continued support.