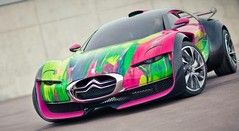 A new 'Art Car' version of the
Citroen Survolt concept car
has been created by Francoise Nielly, and this is it.
Apparently the 'renowned contemporary artist' was a source of inspiration for the original styling of Survolt, and he worked closely with Citroen's design team to create this exciting new interpretation of Citroen's 100% electric racer - first shown at Geneva back in the Spring.
The new art car is taking pride of place in a new display at Citroen's showroom on the Champs-Elysees. The finish is officially described as 'a bold, vivid and brightly contrasting new fluorescent paint scheme'. Anyone else need a sick bag?
You can see some of Nielly's other stuff here. We're not that hot with the crayons ourselves, but it all looks a bit 'samey' to us...