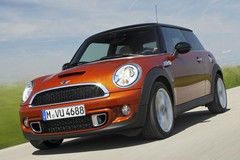 Web rumours are gathering pace that Mini will unveil a new high-performance diesel at the Geneva show in March, dubbed the Mini Cooper SD.
Mini appears to be attempting to corner the market in tiny-yet-rapid diesels; it already has the Cooper D, which manages to be frugal enough to combine free road tax and a London congestion charge exemption (thanks to 74.3mpg and 99g/km CO2) with genuine warm-hatch performance (0-62mph in 9.7secs).
And now, although it sounds more like a type of memory card than a car, the Cooper SD will add even more performance to the Mini diesel range, with 141bhp and 225lb ft of torque apparently on the cards (that's 29bhp and 26lb ft up on the existing Cooper D). And though the car will sacrifice around 10mpg in hatch form, we reckon the expected 65mpg isn't too bad.
The new engine, we're told, will eventually be slotted into the hatch, Convertible, Clubman and Countryman, and we should see the first images of the hatchback version - along with some more concrete spec details - sometime in February.