Dallara is one of the icons of racing car chassis development, a name known across motorsport. The company's achievements since its formation in 1972 are both numerous and remarkable: Dallara cars have won 15 of the 19 Indy 500s they have entered. Every single Italian F3 championship since 1985 has been won by a Dallara, apart from 1990. And it worked with Audi on the R8 LMP cars
That's before you mention the road car side of Dallara, which has included collaboration on cars like the KTM X-Bow, Maserati MC12 and Alfa 4C. Alright, nobody's perfect. But the point being that when Dallara starts work on a road car there's cause to be very, very excited indeed.
Here's our first look at what's believed to be said vehicle, testing ahead of a rumoured debut later this year. Naturally it carries the disguise of a test mule, though there seems little point attempting to cover up such an outrageous looking car - how could you miss it? The Dallara appears more dramatic than many top level racing cars, particularly with the driver's canopy so visible here.
It doesn't appear a big car though. In an interview with Autocar last year Giampaola Dallara said he was aiming for 800kg with this car, which of course a diminutive size will help with. Note as well that the wheels and tyres aren't all that big either, the focus seemingly on aero grip rather than a huge tyre footprint.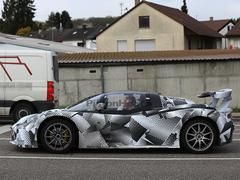 Look behind the front wheels, where air will be dragged out and along the side of the car. There appears to be some very serious cladding around the rear arches too, though it's hard to be sure what that's for just yet. The spoiler and diffuser are suitably serious too, the latter presumably the end of a flat floor underneath the car. At present the car is on Pirelli winter tyres, so place your bets now as to what the more track focused rubber might be.
As for an engine, it has been suggested that the Dallara will use a version of the 2.3-litre Ecoboost four-cylinder turbo as used in the Mustang and the Focus RS. Not an auspicious start, though expect it to be more powerful and - hopefully, at least - more exciting than in those installations. For a sense of how it can perform in a lightweight car see our impressions of the Zenos E10 R, which uses a 350hp version of the engine with the single-scroll turbo set-up from the Mustang.
The Dallara road car is expected to be more expensive than the KTM X-Bow because of its greater performance. The logical comparison would be with the Lotus 3-Eleven, which also combines an off-the-shelf engine with lightweight construction and serious aero for stupendous performance. We, and most probably the chaps in Norfolk, will be watching this one with interest.
[Photos: S. Baldauf/SB-Medien]