Hill. Driving too fast and too close to the car in front...
In a list of people likely to speak out against the proposed 80mph motorway speed limit, you probably wouldn't expect a Formula 1 World Champion to feature. But Damon Hill has today admitted that the prospect of people driving at 80mph "makes him shudder", telling Sky News that he seldom drives above 70mph as "it's too stressful".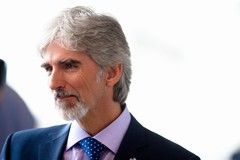 Hill. Not looking stressed...
The 1996 F1 champ says in his experience of motorway driving many people "drive too fast, too close to the car in front, and they think they know what they're doing". He even suggests that most drivers are not safe to drive over 55mph, such is the lack of concentration displayed by many.
The retired racer refuses to accept any comparison between road and track driving, saying the former requires a "totally different state of mind" and that people simply don't concentrate when on a motorway. An 80mph limit would only exacerbate the problems that arise from not paying attention, in his opinion.
Would restricting drivers to 55mph on motorways make driving on them less stressful? Will raising the limit to 80mph make the experience worse?
Damon Hill's statement is certainly a bold one, but perhaps it would have been more appropriate to go down the route of calling for better driver training. After all, if we have to cater for the lowest common deominator, surely we should do all we can to raise the level of it?
Either way, don't expect the debate to die down any time soon.