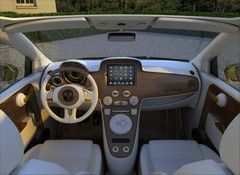 These images are renderings of a 500,000-euro (£420k) Fiat 500C that's been commissioned by a Chinese businessman.
The car is set to be called "La Dolce Vita Gold and Diamonds 200hp" and - as you may already have guessed - features heavy use of diamonds and gold, and has been tweaked to give 200hp.
The car is based on a 500C Abarth, but tweaked to 200hp courtesy of a new ECU, more turbo boost and a sporty exhaust. Handling tweaks come in the form of upgraded Brembo brakes and adjustable dampers.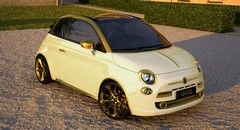 The exterior features 24k gold in the paint and gold thread in the hood. Inside, meanwhile, there is teak on the floor, dashboard and steering wheel, and 24k gold controls and inserts on the dash. Tasteful.
There is one genuinely interesting innovation, however - space on the dash for an integrated iPad. Sadly, that's been diamond-encrusted too. There's no accounting for taste, we suppose...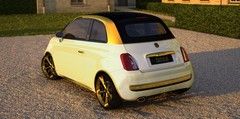 Oh, and if you're wondering who on earth Fenice Milano are, they are also responsible for creating
this monstrosity of a Rolls-Royce Ghost, called the Diva
.