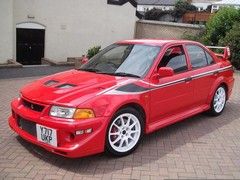 Fings ain't what they used to be!
In spite of the rumours that have been circulating for a year or so, we still can't
quite
believe this. It's another item of interest for sporting saloon drivers from today's
Autocar
magazine - namely confirmation from Mitsubishi president Osamu Masuko that the new Evo XI really will feature (gasp!) diesel electric power.
According to the Autocar report, the Evo's future has been on-and-off this year as Mitsubishi management mulled a future for the company that centred on a new range of electric vehicles.
Apparently the backlash from fans outraged by the model's proposed demise has inspired a rethink at Mitsubishi HQ - hence the reported decision to spend three years bringing the previously mooted new diesel-electric hybrid 4x4 uber-saloon to market. (Although when we first heard about it, we thought it was going to be a petrol hybrid.) We're told it will retain a sub-5sec 0-60 time, but reduce CO2 emissions to 200g/km and the car is being built around a modified version of the S-AWC four wheel drive system.
Progress this may be, but the news doesn't half set PH Towers hankering for a bit of pukka Evo action.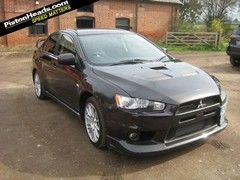 Happy days... an FQ360
You may recall that
we ran an FQ360
as a fleet car back in 2009, and it was such a riot that we couldn't resist a quick browse through the PH classifieds to see what's out there now.
We found this minty FQ360 just like our old one, that has dropped from nearly £40k when new in 2008 to a tempting £18,750 today with just 24,000 miles on the clock. Or you could have this rare 2001 Tommi Makinen edition for a less than half the money.
Diesel? Nope, still not convinced...