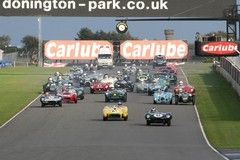 Donington Park is to cement its return to the motor racing fold with an annual historic festival - the first of which is scheduled for the early May Bank Holiday weekend next year (30 April - 2 May).
After its aborted attempt to grab the British Grand Prix from Silverstone, Donington is back in the hands of the Wheatcroft family (Kevin Wheatcroft, whose father Tom reopened the circuit in 1977, is once again at the helm), and is keen to create a festival that can rival the best historic motorsport events (for that read Goodwood).
"After a period of uncertainty, Donington Park's future as a race circuit is now assured," says Kevin. "The circuit has a fabulous history that is an important part of British heritage, from the days of the pre-War Silver Arrows GP cars right through to modern times. The launch of the Donington Historic Festival is one example of how we intend the circuit not only to survive, but to thrive in the years to come."
The Donington Historic Festival will be run by experienced race organiser Duncan Wiltshire. "The Donington Historic Festival aims to fill a very clear hole in the calendar," he says, "by placing the needs and wishes of owners, drivers and knowledgeable enthusiasts at its heart. This will be a truly prestigious annual event, inviting only the very best race series and the highest-calibre cars and drivers.
"We aim to delight serious historic motorsport fans, and the owners of the most original, most fascinating and most important cars, by focusing on the pure motor racing experience, over and above any add-on attractions."