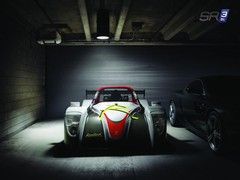 Radical is set to reveal the latest version of its hardcore track car/road-legal racer - the SR3 SL - at the Autosport show in January.
According to Radical, the SL will be the company's most advanced sports car ever, and will be powered by a version of Ford's new 2.0-litre, Euro5-compliant Ecoboost engine.
This brand-new turbocharged unit features Twin-Independent Variable Cam Timing and state-of-the-art, high-pressure Direct Injection, and transmits its power to the road via a six-speed sequential gearbox. Radical has also tweaked the motor to provide it with 300bhp as standard.
And if the paddle-shift gearchange, fly-by-wire throttle, and 675kg kerb weight isn't extreme enough for you, Radical will offer a Race Pack, which includes options such as engine calibration map selection (giving 'road, 'wet' and 'racetrack' maps), an FIA-approved fuel cell, a bi-plane rear wing and racing tyre options.
As well as the SR3 SL, Radical will also reveal the SR8 RX with a new 2.7-litre RPX V8 at the Autosport show from 13-16 January.