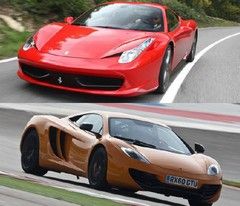 A tale of two supercars
Considering how similar the new McLaren MP4-12C and Ferrari 458 Italia are to one another in design template, and on price - the McLaren costs £168,500, the 458 £169,545 - it's intriguing to discover just how different they are to drive.
To begin with the McLaren seems far less edgy, and far less obviously exciting in its responses and is certainly less dramatic to listen to than the Ferrari, which feels more extrovert than the 12C in its personality, period. Yet the more time you spend with the 12C, the more impressive its monstrous dynamic capabilities become. In many ways it's quite a subtle car to begin with, because its ride is so well resolved, its gearchange less 'thumping' in its delivery (than a 458's), its engine more refined at low revs.
Once you've summoned the courage and found the right road on which to let rip in the 12C, though, a rather more fearsome side of its character becomes apparent. Truth is, the 12C can do things that the 458 driver cannot (or should not) even contemplate. It's that much faster in a straight line, that much more planted through corners taken at speed.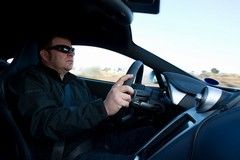 Sutters living it large in the McLaren 12C
And on paper the 458 would appear to be comfortably outgunned by the 12C. It has less power (562bhp to the 12C's 592bhp), less torque (442lb ft v 398lb ft) and weighs 50kg more. Its 4.5-litre atmospheric V8 also produces more g/km (307 v 279) and burns more fuel than the 12C's 3.8-litre twin turbo V8.
Whether all that makes the 12C a better car than the 458 overall is, of course, entirely up to the individual. The McLaren is a more capable car, no question, but whether it's as desirable is another matter entirely. Visually you could argue that it's not. But again the decision, as with all matters of style, is subjective.
Personally I prefer the look of the Ferrari but would go for the McLaren in just about every other department. The only certain conclusion is that if you have £170k to spend on a supercar right now, the choice just got a whole lot better.
(Read the full McLaren MP4-12C drive report on PH here)
 

 
McLaren MP4-12C
Ferrari 458 Italia
Price
£168,500
£169,545
0-60mph
3.1sec (claimed)
3.4sec (claimed)
Top speed
205mph (claimed)
202mph (claimed)
Economy
24.1mpg (combined)
21.2mpg (combined)
CO2 emissions
279g/km
307g/km
Kerb weight
1434kg
1485kg
Engine layout
V8, 3799cc
Twin turbo
V8, 4499cc
Installation
Mid
Longitudinal
Rear wheel-drive
Mid
Longitudinal
Rear wheel-drive
Power
592bhp at
7000rpm
562bhp at
9000rpm
Torque
442lb ft at
3000-7000rpm
398lb ft at
6000rpm
Power to weight
455bhp/tonne
413bhp/tonne
Specific output
155bhp/litre
125bhp/litre
Compression
ratio
8.7:1
12.5:1
Gearbox
7-speed
Dual clutch auto
7-speed
Dual clutch auto
Length
4507mm
4527mm
Width
1909mm (ex mirrors)
1937mm (ex mirrors)
Height
1199mm
1213mm
Wheelbase
2670mm
2650mm
Fuel tank
72 litres
86 litres
Range
382 miles
401 miles
Front
Suspension
Double wishbones
Coil springs
Hydraulic anti-roll
Active dampers
Double wishbones
Coil springs
Anti-roll bar
Rear
Suspension
Double wishbones
Coil springs
Hydraulic anti-roll
Active dampers
Double wishbones
Coil springs
Anti-roll bar
Brakes
370mm front
350mm rear
Steel ventilated
discs
398mm front
360mm rear
Carbon ceramic
ventilated discs
Wheels
8.5Jx19in (front)
11.0J x20in (rear)
8.5Jx20in (front)
10.5J x20in (rear)
Tyres
235/35 ZR19 front
305/30 ZR 20 rear
235/35 ZR20 front
295/35 ZR 20 rear