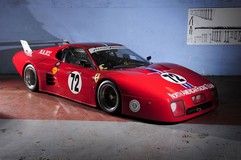 Ferrari 512BB/LM - yours for quite a lot
Some of the world's most well-heeled car collectors will gather in Monte Carlo this Friday (20th) to see who'll pay the most at auction for some rather exquisite machinery. The star of the show could well turn out to be a 'North American Racing' Ferrari 512BB/LM which the auctioneers reckon will realise something in the region of £1,000,000 - 1,300,000.
You'd think that a factory development of a superb road car car, with a wind tunnel-designed body and an alleged 480bhp on tap to propel just 1100kg might have made a formidable racer. It didn't. Despite being reportedly extremely fast, when they didn't retire (which most did) they managed only lowly finishing positions with the best result being 10th at Le Mans in 1980. We suspect, however, that when bidding starts on this one that won't matter one bit to people prepared beat each other with flipping great wedges of cash for the right to call it their own.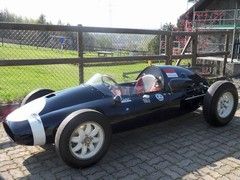 Or pick a GP winner for a lot less
If provenance-per-pound is what you're after then we reckon you'd be better off bidding for the 1958 'Walker' Cooper Climax Type 45 which actually won the 1958 Monaco Grand Prix and is anticipated will make between £130,000 - 175,000. Well... when we say 'won', it only did so after all the cars in front of it had failed - in fact only six cars finished that year with just three of them on the lead lap. (Coincidentally, on the list of DNQs for that race appears the name of one 'Bernie Ecclestone' in a Connaught-Alfa Romeo...)
Just some of the other cars for sale are Sir Malcolm Campbell's 1933 Rolls Royce Phantom II, a '64 Shelby Cobra 'Competition', a Ferrari 275GTS, an Alfa Romeo Tipo 33, and a Mercedes Benz 300SL Roadster. Bonhams expects each of those to be sold for at least £300,000, although recent results would suggest that they could make somewhat more than that.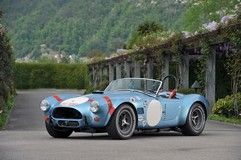 But we'll take this one, thanks!
So, if unlike us you can afford to bid on some of these cars you probably have just enough time to alert your banker, don your H.Huntsman suit and Turnbull & Asser shirt, polish your John Lobb shoes, pack your Tanner Krolle luggage into the Continental, and adjust your Hermes tie before you roll (blast?) down to the Cote D'Azur and
add a toy to the collection
. One day, one day...
| | |
| --- | --- |
| Sir Malcolm Campbell's Phantom | M-B Gullwing (you know what we mean) roadster - topical! |
| A 1965 Ferrari 275 GTS | Alfa Tipo 33. "Grandma, pack your bags..." |