Michael Schumacher has told his former Ferrari F1 boss Luca di Montezemolo there's "a very, very, very strong possibility" he'll be racing for Mercedes-Benz in Formula 1 next year.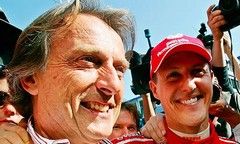 Luca/Schuey F1 phonecall reported
The rumours of a Schuey comeback with M-B have been circulating for weeks now, but this is the first 'concrete' quote on the subject from somebody intimately connected to the driving star.
Luca di Montezemolo held forth on Schuey's future at an annual Christmas bash for media on Thursday last week according to Autosport - who were lucky enough to get an invite. (Oddly, Mr di Montezemolo doesn't even send PH a Christmas card...)
"I hadn't spoken to him since Abu Dhabi but I spoke to him yesterday (Wednesday). He phoned me and he told me that there is a very, very, very strong possibility [of racing for Mercedes-Benz]. Having said that, it is not 100 per cent decided. But that is what he said yesterday morning," revealed the Ferrari boss - we'd like to think after a glass or two of festive Prosecco.
Autosport reckons the only thing now standing in the way of Schuey's comeback is the fitness issue, following the motorcycle accident that put the kybosh on a planned Ferrari comeback earlier this year.
The German star has been released from all remaining Ferrari commitments to clear a path for his return with M-B, they say.