The sun might not be shining, economically speaking, but Ferrari is still making hay with 'record' sales of 5,267 cars so far this year.
The UK is just one market that has seen growth for Maranello, which is reporting that sales here are up 37 per cent to 504 cars in the first nine months. Its biggest market, the US, is doing well with sales up 37 per cent, with Germany, China and Japan also thriving.
The more prosaic end of the luxury market is having a strong year too, with Mercedes predicting it's on course for record profits in 2012, while Audi sales are up a whopping 13 per cent to 1.1 million in the first nine months. Beating them both on sales is BMW, which reckons it can beat last year's pre-tax profit figures of $7.4 billion.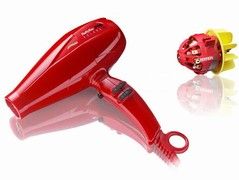 'Ferrari-engined' hairdryers the secret to profitability
The banana skin for everyone is mainland Europe, particularly southern Europe. Figures we've seen for the first eight months show serious slippage for all the mainstream makers. Fallers include Renault down 20 per cent, Fiat down 18 per cent, Vauxhall/Opel down 15 per cent, Ford down 19 per cent and Peugeot down 14 per cent. No wonder the talk is of factory closures and aggressive discounting.
Some luxury brands are taking a tumble across Europe too, including Aston Martin, which is down 25 per cent and Lotus, down 52 per cent. Even Rolls Royce is having trouble, with sales running 17 per cent below last year. Ferrari's overall sales in Europe are flat, but that is pretty good considering the whole market is down seven percent.
The firm's splits are interesting - top seller in Europe is the 458 with 1,200 sold, followed by the California at 467 and the FF at 383. That last figure is more than Lamborghini sold in total across the region over the same period.
Ferrari said its increased profits were in part due to brand activity, which means online sales and licencing (including Ferrari stores). One licencing partnership it said is doing particularly well is Puma, which sells a range of Ferrari branded footwear and clothing with names like Ferrari Drift Cat IV Carbon Shoes.
If you want to delve further into the murky world of Ferrari licencing then check out Babyliss hairdryers with their "Ferrari-designed engines" (we're not kidding).