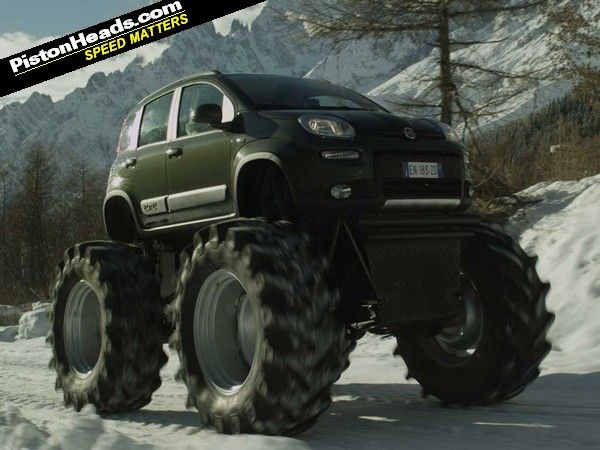 Growing up in rural North Yorkshire the range of cars about was pretty limited. The more so the further into the wilds one ventured. A battered old Landie was the default, the more adventurous going for a Subaru pick-up. And for the wife? Subaru Justy - complete with cool red button on the gearstick - or one of the old live-axled Panda 4x4s.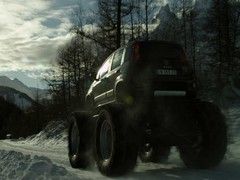 Things have moved on from the old Sisley!
What no-nonsense folk like that would make of this monster truck Panda 4x4 built for Fiat's latest ad campaign probably doesn't bear repeating but who can begrudge the film crew a bit of fun. Especially when previous efforts transforming it into a scooter and light plane were computer generated.
Not this one though. Take one Jeep CJ7 4200 chassis. Add some 1.5m diameter 'high speed' tractor tyres. And spend a couple of weeks grafting this lot to an unsuspecting Fiat Panda 4x4 and you get this. Which is probably, in reality, about the only way to keep going on British roads once the snow falls. Because, as we all know, it doesn't matter how winterised your tyres or how many driven wheels you've got - if there's a Herbert in a rear-drive German premium saloon on 20-inch wheels slewed across the road ahead you're not going anywhere. This does at least open up the options for taking a more inventive cross country route.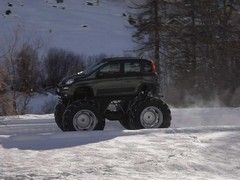 Winter driving woes sorted in one move
It's been built to promote the latest version of
the Panda 4x4
you'll actually be able to buy which still looks like it might be fun, even if it's not quite as back to basics as the original one. Still just the job for those snowy Yorkshire lanes though.