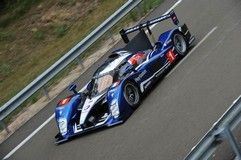 Having previously been kept secret in Peugeot Sport's factory in Vélizy, near Paris, Peugeot Sport's new Le Mans/endurance racer - known under the codename 90X - has been out for its first track test at Monza.
The 90X complies with the new ACO's 2011 regulations, and (like the 2011 Aston Martin LMP1 rendering we showed you a while back) incorporates a 'shark fin' on the engine cover, a feature designed to help prevent the car from becoming airborne in the case of a high-speed spin. These newly-released images are the first official pictures we've seem of a top team's LMP1 car featuring the mandatory aid.
As with the Peugeot 908 HDi FAP, Peugeot Sport has opted for a closed cockpit design, which still meets the mandatory 900kg weight requirement.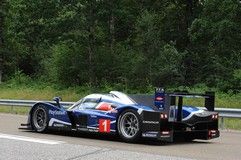 "We are still exploring several options with regard to the engine and technology we will use," says out Bruno Famin, the Technical Director of Peugeot Sport. "Work on the engine's development is ongoing. Endurance racing is an ideal proving ground to provide us with the opportunity to showcase all the brand's technologies."
According to Autosport, that means Peugeot is planning to run some sort of hybrid powertrain next year, but that no definitive decision has been taken yet.