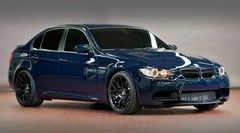 BMW has released pictures of a very special M3. This is a concept car unveiled at a special M GmbH event in Germany. It has been built using parts from the hardcore GTS and hints at a possible production car, most likely a successor for the legendary E46 CSL.
Details are still elusive and there is debate as to whether or not it will use an uprated version of the standard M3's 4.0-litre V8 or the GTS's 4.4-litre unit. But were we betting people, the stock motor is the one with the shorter odds. What is not in doubt, however, is that it will certainly have more power than the standard M3.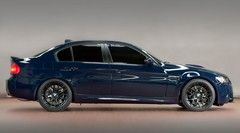 The concept features many parts that you would find on a GTS, however. Black kidney grilles, darkened alloys, an uprated exhaust system, a new boot lip spoiler, tweaked suspension and a front splitter similar to that on the GTS.
M division engineers are remaining tight lipped about any further details but M division boss Dr Kay Segler did let slip that it would have 'lightweight construction', although no carbon fibre accoutrements have been spotted as yet.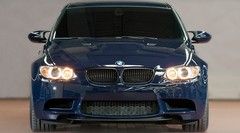 If this car makes it into production (which is pretty much certain), it will sit between the boggo M3 and the top-end GTS version in the range. What is not certain, however, is whether or it will come to Blighty, at least as a saloon; sales of the four-door M3 are considerably slower than those of the coupe and the convertible, with 144 saloons being sold in the UK last year compared with 686 coupes and 384 convertibles.