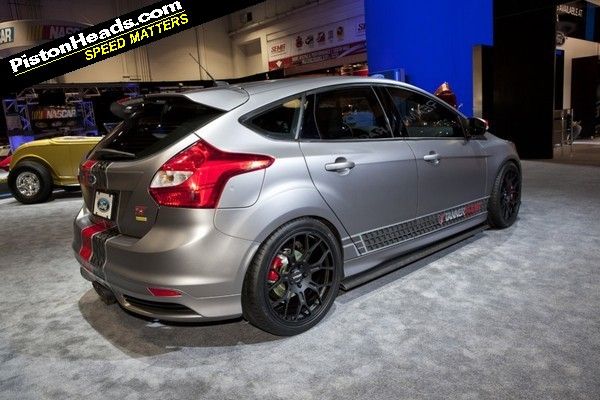 To those waiting for the
next Focus RS
, this should keep you amused in the meantime. Ford of Europe's preferred performance specialist Mountune will in the new year offer up a fully manufacturer warrantied upgrade for the two-liter turbo Ecoboost in the Focus ST that'll hike power to "around" 280hp.
The standard ST is already decently pokey with its 250hp pushing the car to 60mph in 6.5seconds, so while Mountune wouldn't give us the full performance figs we'd wager a time under six seconds.
The car previewing all this is a special edition Focus revealed at the SEMA tuner show in Los Angeles earlier this month celebrating rallycross star Tanner Foust.
WTCC special edition has 200hp upgrade
Mountune did the 280hp upgrade for that car, admitting to PistonHeads that the Euro-spec tune will be pretty much the same. Expect a similar price to the Mountune upgrade of the previous 2.5-litre ST, which found 260hp for around £1,200 depending on which Ford specialist you went to.
If the styling of the Tanner Foust car (pictured top)appeals in any way, Ford dealer and Mountune specialist TGST in Somerset told us there's a small chance it'll be sold in UK dealers.
Mountune has already produced a 200hp upgrade for the 1.6-litre Ecoboost Focus seen in the Zetec S. This £995 addition is similar to the forthcoming two-litre hike in that it includes an upgraded intercooler and airbox as well as the ECU tweak. Again it can be fitted without troubling the standard Ford warranty and turns the Focus into a proper ST baiter by reducing the 0-60mph time to 6.9seconds, down from 7.9secs.
This tweak has found itself in another special edition car, this time built to celebrate Ford's World Touring Car Championship campaign. It's being pushed by the UK-based Arena team running the Focus 1.6-litre Ecoboost racers, one of which is driven by Tom Chilton, and includes a few extras like special 18in alloys.
We couldn't find get any useful information about the car, like price or on-sale date, on account of the whole team being out of the country, but if you want to know how the new 1.6 Ecoboost upgrade drives, stay tuned for a test by our new boy Alex, who'll tell us how close it gets to ST territory.