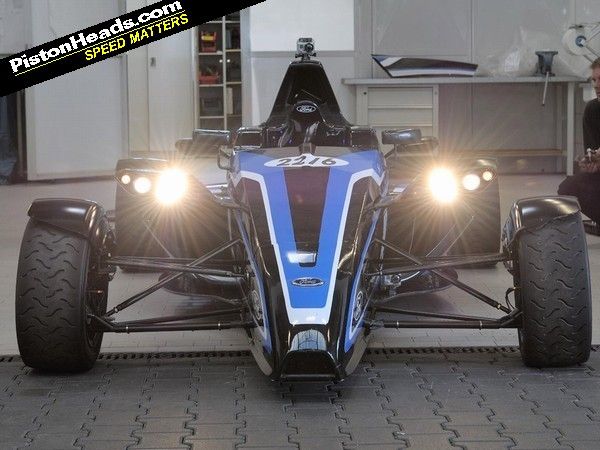 Ford's road-legal single-seat track car, the FF1, is set to make its public debut in the UK at the
Goodwood Festival of Speed
this year. And what's more, Ford bosses are still considering making the car a production reality.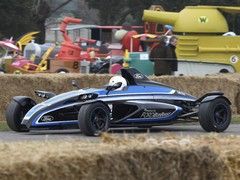 FF1 to make UK debut at Goodwood
Originally conceived as
a publicity exercise
to prove the performance worth of the
1.0-litreEcoboost
engine that powers it,
as we learned last year
the FF1 was subject to so much interest that some sort of production run was soon being talked up. And while nothing's been confirmed as yet, a Ford spokesperson told us today that a production version of the FF1 is still actively being considered.
Based around a Formula Ford chassis, the FF1 first made headlines when it set a lap time at the Nurburgring of 7min22sec, the 11th-fastest lap time ever, and quicker than a whole host of exotica. The level of interest piqued by that feat was so high that the possibility of giving the 205hp FF1 a production run, potentially of around 50 cars, has been on the cards ever since.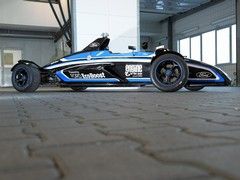 FF1 production is, apparently, under consideration
With the FF1 already road legal, and versions of its powerplant already in series production for use in the
Fiesta and Focus
, it's not hard to envisage that production, albeit in fairly limited quantities, could be relatively achievable. The result would, in theory, be a road-legal track toy that could emulate the super-light FF1's 100mpg fuel consumption, 150mph+ top speed and sub-four-second 0-62mph time. Ford's already put the feelers out with its
Ecoboost-powered Caterham
, too – although the hope is that a production FF1's higher state of tune would make it rather more gutsy, while the race-derived chassis would make it even more involving to drive. Would Ford actually do it? It'd be a brave move if they did, that's for sure - but just the fact they're still talking about it has us crossing our fingers.