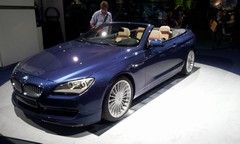 Alpina has dropped the 4.4-litre twin-turbo V8 it uses to create the 5-series-based B5 saloon into the new F12 BMW 6-series cab for the Frankfurt motor show, creating the B6 Biturbo.
And, just as with the B5, this means 500bhp at 5500rpm, and 516lb ft of torque at 3000-4750rpm. Consequently, the soft-top Alpina can breeze to 62mph in 4.8secs and (unlike BMW M cars, which are limited to 155mph, tsk tsk, etc) push on all the way to 193mph, should the mood take you (on the autobahn, of course...)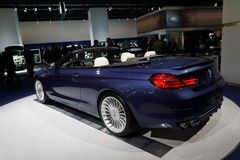 Of course, 500bhp is going to pale a little in comparison with the forthcoming M6 (which should get 550bhp-plus), but since that's not around until next year, the Alpina will be the only choice for those wishing for a fast BMW with a '6' in its model name (and besides, Alpinas have always taken a rather softer-edged approach to performance motoring than M cars).