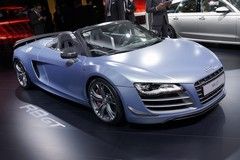 Roofless versions of established supercar favourites seem to be something of a Frankfurt fad this year, Audi's Spyder version of the hardcore R8 GT taking its place alongside the SLS Roadster and 458 Spider in the league of expensive ways to enjoy the wind in your hair.
Audi has shed 85kgs from the standard R8 Spyder, bringing the weight down to 1,640kgs. Throw a 560hp, 398lb ft 5.2-litre V10 in the mix and you get from 0-62mph in 3.8 seconds and a top speed of 197mph. That's a couple of tenths and mph off the coupe version and, sadly for Audi, slower than the 458 Spider too.
Audi is only making 333 (making it a sort of 'demi-beast'?) and each car will have its production number stamped on top of the gear lever. Speaking of which, it's R tronic automated manual and left-hand drive only. And you'll know our thoughts on the former from our roadtest of the coupe version.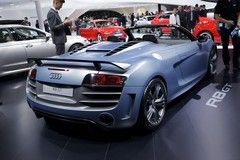 To make sure it stands out over the hordes of standard R8s the GT Spyder has been lowered by 10mm, comes with an onboard lap timer, round exhausts, a larger diffuser, darker tail lights and a dual-lip front spoiler.
If you want one be ready to throw around £200,000 in Audi's direction and act fast - all 33 of the coupe versions coming to the UK sold out more or less immediately.