Fans of fast Fiestas have been waiting a long time for this: Ford has unveiled a new Fiesta ST Concept at the Frankfurt motor show.
Although officially a concept, the new Fiesta ST "hints at how a future Fiesta ST performance model might look when it joins the Focus ST in the global Ford small car portfolio," says Ford. For which read "yes, we'll most probably make it, but we don't want to make it official just yet..."
This will be the second-generation Fiesta ST, and this time around the car gets a 180bhp, 177lb ft version of Ford's turbocharged 1.6-litre Ecoboost petrol engine, providing a convenient marketing link (sorry - bonafide motorsport connection) with the Fiesta WRC car, which is also powered by a 1.6-litre turbo petrol.
Like the 2.0-litre EcoBoost engine that will power the forthcoming Ford Focus ST, the 1.6-litre EcoBoost in the Fiesta ST Concept also features Twin-independent Variable Camshaft Timing (Ti-VCT).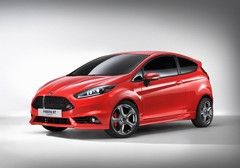 That should be enough to push the diminutive hot hatch to 62mph in less than seven seconds through a six-speed manual gearbox and on to a top speed of 138mph (in other words bang on target to tackle the likes of the Polo GTi and Fabia vRS).
Visually, the new ST Concept ticks all your usual mini hot hatch cues, including a rear diffuser, twin exhausts and chunky 17-inch wheels, but the bold trapezoidal honeycomb grille and molten orange paint (borrowed from the US Ford SVT F-150 Raptor pick-up) help it to stand out from the crowd.
We must say we're rather looking forward to it - given the regular Fiesta's ability (in Zetec S format at least) to put a smile on a driver's face, an ST version should well be quite a giggle.
Focus ST
Perhaps less exciting (if only because we knew it was coming) was the unveiling of the production version fo the new Ford Focus ST. Powered by a 247bhp, 265lb ft 2.0-litre Ecoboost engine, it will be Ford's first truly global hot hatch, and is set to go on sale in more than 40 countries and across six continents (a Ford dealership has yet to be built in Antarctica).