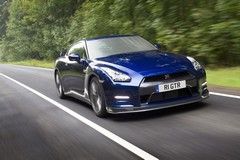 Nissan has finally revealed details of its tweaks to
the new 2011 GT-R
, more than two weeks after it first let us look at the car at the Paris motor show.
It's more than just a mild tweak, too: power is up from 478bhp to 523bhp, with torque up by 18lb ft to 451lb ft (though if you believe the rumours the car has always had something close to these power and torque levels anyway).
Various clever tweaks to the ECU, catalyst, turbo boost pressure and exhaust mean that emissions drop and economy improves, too, as does a 'save mode' which replaces the old car's 'snow mode'- but you don't want to know about that, do you?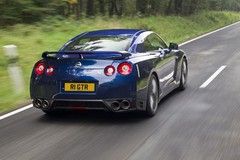 More interesting is that 'R mode' now has a launch control mode that allows maximum-attack starts while monitoring oil temperatures to ensure reliability is maintained and prevent further use if the temperatures rise above the maximum allowance.
Intriguingly, a two-wheel-drive mode is now available to help control tight turning at slow speeds. This will temporarily shift the car to 2WD as long as the speed is below 6mph and the steering wheel is turned more than half way. Shame it can't be activated at higher speeds...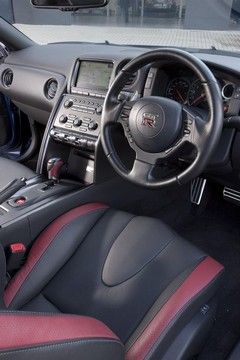 In chassis terms the springs, dampers and anti-roll bar have been tweaked, while the front caster angle has been increased. At the rear, a free-piston shock absorber has been developed to help provide more responsive damping and a smoother ride. Larger brakes, a new compound for the Dunlops and lighter, more rigid Rays wheels complete the dynamic tweaks.
The redesigned front bumper helps increase downforce but adds LED daytime running lights (arghh!! - Ed). At the rear a new bumper has a new lower centre of gravity while the quad tailpipes have increased in girth.
Overall, the tweaks not only bring an extra 10 per cent of downforce, but also reduce the drag from 0.27 Cd to 0.26 Cd.
There is a snag to all these tweaks, mind - the price jumps up from £59,945 to £69,950 (though that does include the forthcoming 20 per cent VAT). The new Nissan GT-R is available to order now, with deliveries starting in March. If you can't wait that long, or don't want to pay that much, 2010 cars are still available, with a delivery time of two months.