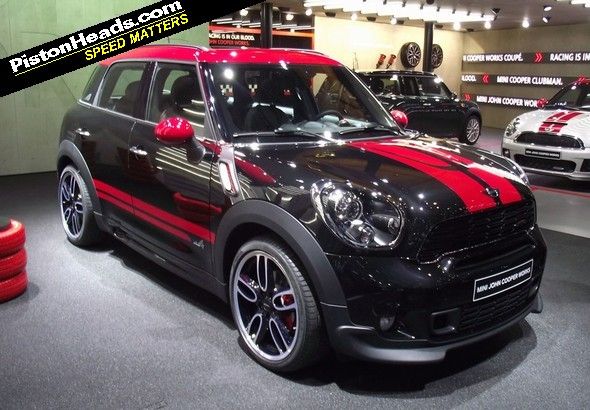 BMW has topped-off its Countryman range with this, the Countryman John Cooper Works, at the Geneva show.
The Countryman JCW will be the first all-wheel-drive JCW Mini, and also the first to offer an automatic gearbox as an option.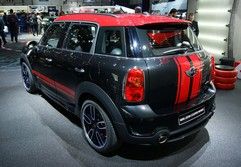 Power from the 1.6-litre turbocharged four-cylinder engine is 211hp at 6,000rpm, while torque is up at 207lb ft between 2,000rpm and 5,600rpm, with the familiar overboost function pushing that up to 221lb ft for brief bursts. That's enough to push the Countryman JCW to 62mph in a healthy-ish 7.1 seconds and on to a top speed of 127mph (although that falls to 7.5 seconds for the automatic version).
But although the the Countryman gets uprated springs and dampers, strengthened anti-roll bars and a 10mm drop in ride height, it won't be quite as extreme as other JCWs, as Mini boss Dr Kay Segler is keen to expand the appeal of JCW sub-brand's line-up.
The new Countryman JCW will go on sale in the UK this autumn, with an expected price hike of roughly £5K over the 184hp Countryman Cooper S, bringing the JCW in at just under £28K.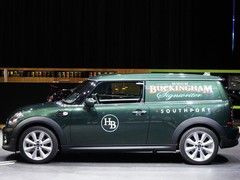 Also on the stand is a further twist on the conventional Mini theme in the shape of the Clubvan concept.
Now, it might not seem the most innovative take on the Mini theme, but it certainly seems to make sense to dump the Clubman's rear seats and turn it into a commercial vehicle.
We're not sure about Mini's claims that the "exterior design cuts a distinctive figure", but the extra right-hand-side door and side-hinged rear doors of the Clubman ought to be a useful addition to a van, at least.
Inside, meanwhile, it's also basically a Clubman, only with a flat load area in the rear, which features six attachment loops, a fixed partition grille and side walls, floor and roof lining trimmed in anthracite-coloured cloth.
Et voila - the 'first premium model in the small car-based van segment'. Niche-tastic or what?