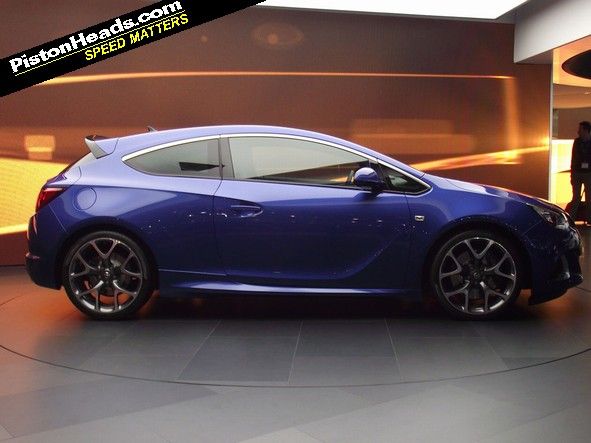 This is the new Vauxhall Astra VXR (ignore the Opel badges, please), which has had its first in-the-metal unveiling at Geneva.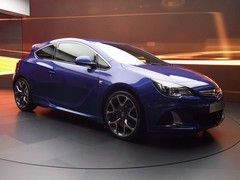 The headline figures for the new hot Astra are 280hp and 295lb ft from the 2.0-litre turbocharged four-cylinder engine, which makes it one of the most powerful hot hatches in its class, as well as the most powerful production Astra ever.
There's some serious attention been paid to the spec of the chassis, too. As with its GTC hatch/coupe cousin, the new VXR comes equipped with Vauxhall's HiPer Strut front suspension, which helps to both improve agility and reduce torque steer. On top of that there's also a proper mechanical LSD, adaptive switchable dampers and a Nurburgring sign-off programme helped along by touring car hero (and Le Mans winner) Jo Winkelhock.
Visual tweaks take the form of unique front and rear bumpers, side skirts, an aerodynamic roof spoiler and two trapezoidal exhaust tail pipes. Inside, the VXR's cabin gets 'performance' seats with embossed logos in the backs, a flat-bottomed VXR steering wheel and upgraded instruments.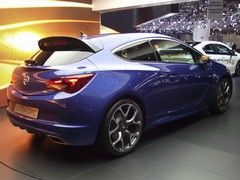 The Vauxhall-badged version will cost £26,995 when it goes on sale later this year. This makes it more expensive than the Megane Renaultsport, but cheaper on like-for-like spec (says Vauxhall, at least).
UK cars will also get a £995 optional styling pack, which includes a bi-plane rear spoiler, 20-inch wheels, and an extra-chunky side skirt (which you can see it on the red car).