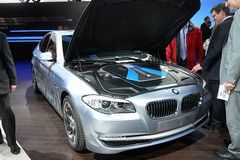 BMW seems to be thumbing its nose at its premium rivals quite a lot at the moment - and its attitude at the Geneva motor show press conference is no exception.
Today, BMW's top man, Dr Norbert Reithofer proudly pointed out that BMW's range-average CO2 output for its cars is 150g/km. "No other premium manufacturer can beat that performance," he said. "Our figures are lower, in fact, than those of many manufacturers of mainly small cars - even though our cars are sportier and have much more powerful engines." So there. Na-na-na-naa-nah. He ought to have added. But didn't.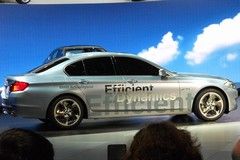 BMW isn't resting on its green laurels, however, as it revealed its latest eco-warrior - a hybrid BMW 5-series. It's called the BMW Concept 5 Series ActiveHybrid and is the first time BMW has combined its ActiveHybrid technology with six-cylinder petrol power - the ActiveHybrid 7 and ActiveHybrid X6 are already in production, but use V8 petrol motors.
The Concept 5 Series ActiveHybrid gets the latest BMW twin-scroll turbo, TwinPower 3.0-litre straight six with a 54bhp electric motor. Assuming the petrol motor makes the same 302bhp as it does in the 535i (BMW isn't yet saying) that should make the 5 Series ActiveHybrid a pretty feisty performer.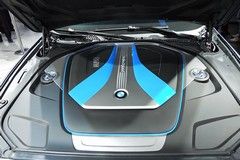 The hybrid 5 can run on solely electric power in town, and a stop-start function for the petrol engine further enhances the car's economy - which is said to be 'more than 10 per cent better' than its petrol sibling.