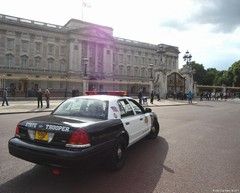 Used Ford Crown Victoria law enforcement vehicles are being imported from the USA by a new company that reckons it's spotted a gap in the market - presumably for mid-life crisis victims with a T.J. Hooker thing going on...
£23k (circa) will get you behind the wheel of a 2009 car that's done a maximum 65-75,000 miles in active service before being fully refurbished, has an unleaded or ethanol/bio-fuelled 4.6 litre V8, and heavy-duty suspension that's related to the Ford F150 pick-up truck set-up, apparently.
Key features to sweeten the deal include a hand-held microphone system, hand-operated spotlight, Kevlar reinforced 'stab-proof' seats, vomit resistant rear upholstery, red white and amber roof lights and 'pursuit tyres'. (We're not sure what pursuit tyres are, but we're hoping they're the kind that makes the back end hang out at ridiculous angles as per the movies.)
The importer USA Cop Cars Ltd says the cars are fully legal with VOSA testing 54 different points to make sure you don't get into trouble with our own boys in blue.
If the Crown Vics are a success, they're looking at bringing in liveried Chevy Tahoes and Dodge Chargers next.