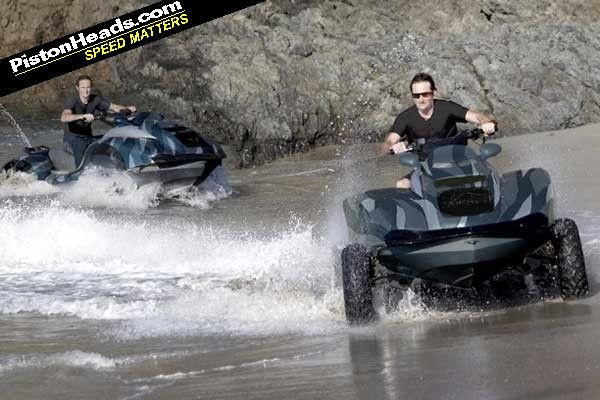 Remember the Gibbs Aquada? The amphibious car made a big splash (strike one Nick - Ed.) at the 2004 Birmingham motor show and then sunk without trace, so to speak (strike two - Ed.).
Saddled with the looks of an MX-5 suffering water retention and a £150,000 proposed price tag, it was never going very far, but then Rover, who supplied its 2.5-litre V6, went under and the project was shelved.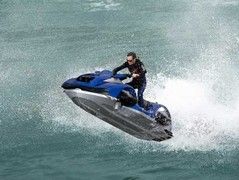 Happier in the waves...
The technology lived on however and Gibbs (no relation to your author) has just announced an amphibious quad bike for sale in the States for a (slightly) more palatable $40,000 (£24,800). This one's actually going to happen - the New Zealand-based company has bought a factory, in Detroit no less, and production is slated to start this month.
We asked via email whether it was coming here and the tumbleweed blew. Okay, there's probably not huge demand in the UK, but it does look quite impressive.
As with the Aquada, the Quadski can be driven straight into water, at which point you press a button to retract the wheels and five seconds later you're off again, pushed forward by a jetski-style water jet propulsion. According to the company the top speed of 45mph is the same on water as it is on land. Power comes from a 1,300cc four-cylinder BMW motorbike engine making 175hp, and the gearshift is from a BMW bike as well.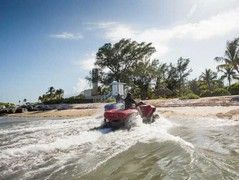 ...but handy if you fancy a beachside cocktail
Despite the German powertrain, there's a good bit of British know-how in the tech. Founder Alan Gibbs might be a Kiwi entrepreneur, but CEO Neil Jenkins is a talented Brit engineer who played a key part in the development of the Jaguar XJ220 supercar.
In fact the Aquada team had quite a few ex-Jaguar staff working on it, so with the technology finally coming to market, we can look proudly on the Quadski as a brilliantly bonkers example of ingenious British engineering.
Looks wise, that that wide body and those puny wheels don't do it many favours on land, but visually it works much better in water. Looks great fun actually: we'd be willing to shell out big money to hire it somewhere warm such as the 4x4 paradise of Fraser Island in Queensland, Australia. Less so in the Cirencester gravel pits near Swindon.