is officially 'doing the rounds' so there's a chance you've already seen it. Doesn't matter. Watch it again!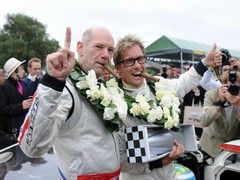 Newey looks chuffed; obviously hasn't seen vid
And, if you haven't, make sure your mug is safely on your desk. Because there's every chance you'll drop it and spill hot tea in your lap the first time you see Swedish X Games and former Indy car driver Kenny Brack catching armfuls of lock in Adrian Newey's GT40 in Saturday's Whitsun Trophy race at Goodwood this weekend.
This year the Whitsun Trophy was an all-GT40 grid as part of the 50th anniversary celebration for the car, with 27 cars taking part. And all of them slower than Brack*, who together with Adrian Newey won the race. And the prize for about the most ballsy piece of driving you've probably ever seen. How ballsy? Try half a turn of opposite lock flat out halfway down the Lavant 'straight' (actually kinked), and again inches from the pitwall passing other cars like they're standing still. Oh, and pretty much everywhere else. All the time. It is, frankly, terrifying even before you consider the value of the car or the braking properties of wet grass if he hadn't managed to arrest one of those countless slides.
As Aretha Franklin once sang, R.E.S.P.E.C.T.