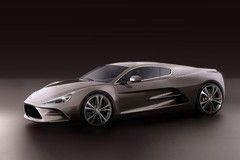 This is the HBH Bulldog GT, a vision of what the Aston Martin V12 Vantage could have become if it had been mid-engined. We
first reported on the Danish firm's work back in May
, but now we can put a bit more flesh on the bones of the car.
Originally there were whispers that HBH would be creating their own bespoke chassis, but it seems that the final product will actually be based on a (heavily, we presume) modified version of the 'normal' Aston V12 Vantage.
That might sound like a mammoth job for a company you've never heard of, but in fact HBH has supercar form, having designed the ST1 supercar for fellow Danes, Zenvo.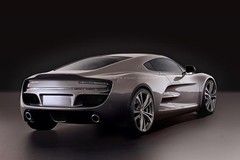 Curently, the plan is to produce the car as a one-off, but HBH is open to the possibility of a short production run, a la
the New Stratos project
.
Power of the new car will come from a twin-supercharged version of the Aston Martin V12, with 666bhp and 548lb ft of torque from the 6.0-litre engine. 0-60mph, they reckon, will be dealt with in 3.9secs, with a top speed of 186mph.
Clothing the modified under-bits is (or rather, will be) a body of hand-beaten aluminium.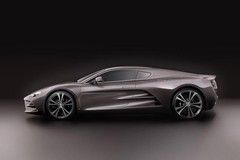 "We could have made the entire body for the car in carbon," Christian Brandt, one of the chaps behind HBH told
Classic Driver
. "In fact, in many ways it would have been easier and the weight of the body could have been slightly lower. But it just didn't feel right, given the heritage of Aston Martin. Instead, we chose to manufacture the body panels in hand-beaten aluminium - following Aston tradition."
HBH reckons on development for the new car taking 12 months to develop, so we could see it in the metal in early 2013.
Bulldog GT Tech Specs:

Body:
Hand-beaten aluminium 

Engine:
All-alloy, quad overhead camshaft, 48-valve, 5935cc V12, twin superchargers

Gearbox:
Six-speed manual transaxle gearbox, limited-slip differential

Max power:
675 PS / 666 bhp at 6500rpm

Max torque:
756Nm / 548lb ft at 5750rpm

Acceleration:
0-62mph in 3.9 seconds

Top speed:
300km/h / 186mph

Wheels: 
9.5in x 19in (front); 12.5in x 20in (rear); forged alloy 

Tyres:
255/35-19 (front); 335/30-20 (rear)

Front brakes:
Ventilated carbon ceramic discs, 398mm diameter with six-piston monobloc calipers 

Rear brakes:
Ventilated carbon ceramic discs, 360mm diameter with four-piston monobloc calipers