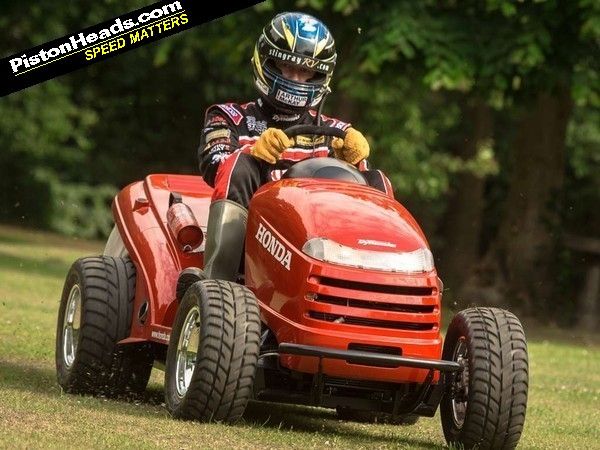 Just when it seemed the high-revving Honda was dead and buried, it has returned! Sort of. This is the Mean Mower, created with Team Dynamics and a sign that Honda can still do crazy, exciting engineering when it wants to.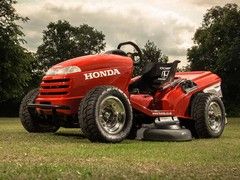 140kg + 109hp = one insanely fast mower
The basic recipe is as follows: take one Honda HF2620 'Lawn Tractor' and add a re-engineered chassis plus the 109hp 1,000cc engine from a Honda VTR 1000F Firestorm. Finish with a Morris Minor steering rack alongside the suspension and brakes from an ATV then, voila, a Mean Mower is born.
There are some suitably barmy stats associated with this ultimate gardening tool. Not only is this a four-wheeled Honda that will rev to 9,000rpm (and beyond!), it makes 539hp per tonne, is capable of over 100mph and will hit 60mph in four seconds.
Gearchanges are through a six-speed paddleshift, a Cobra seat holds the budding Alan Titchmarsh in place and a Scorpion exhaust registers 130dB at 'three-quarter RPM'. This will undoubtedly be popular with the neighbours.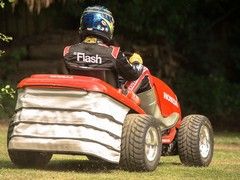 Horticulture by Honda. PH approves
And don't think the Mean Mower has abandoned its lawn-tending duties. A pair of electric motors on the cutter deck spin 3mm cutting cable at 4,000rpm and allow grass to be trimmed at 15mph. This is twice the speed the standard HF2620 is capable of, so it's just as practical as we would expect from Honda.
Team Dynamics' team manager Pete Crolla said of the project: "One of the key challenges is that this has never been done before, to our knowledge. From an engineering perspective, retaining the look of the mower, and the ability to still cut grass were the biggest challenge."
The Mean Mower is just a bit of fun for now. However, it does show a Honda keen to push engineering boundaries, which must be good news for enthusiasts. When's the Type R coming?