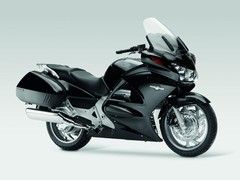 Current Pan European will soldier on...
Honda has announced that it's put the next generation Pan European on hold.
Word is that the new BMW K1600GT has caused Honda to have a re-think on a new Pan.
There are two problems: the first is the shortage of cash that would be needed to develop a new bike that could compete with the BMW's power output and sophistication.
The second, and it's linked to the first, is that the American market wants a big comfy tourer in the Gold Wing mould and the European market prefers a bike that has excellent performance and dynamics that is still comfortable; there isn't enough cash knocking around Honda's R&D department for the company to develop both types of bike.
So it seems the current Pan European will stay in production until 2013. And possibly even longer.