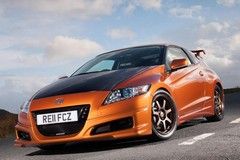 These are the first official pics of the new supercharged Honda CR-Z Mugen, which is due to make its public debut at the Goodwood Festival of Speed this july.
As we revealed in our previous story on the Mugen CR-Z, the new car will retain its 1.5-litre motor and Honda IMA electric motor, but will also be equipped with a supercharger, giving the diminutive hybrid coupe around 198bhp and 181lb ft of torque
Early tests with a prototype car based on a standard CR-Z and what Mugen describes as a 'mid-tune' engine have given 0-60mph times around that of the Civic Type R (think high six seconds).
But the car should get a further 15 per cent increase in power over this 'stage 1' engine andmore than 50kg reduced from the chassis - so we can expect prett darn nippy performance from the finished version - along with those ever-more important low fuel consumption figures.
"Early fuel consumption tests have also been encouraging," says Colin Whittamore from Mugen Euro. "We've retained the three driving modes from the standard car and economy ranges from 50+mpg in 'eco' mode to mid-30s mpg when tapping into the supercharged power in a special 'Mugen' mode."