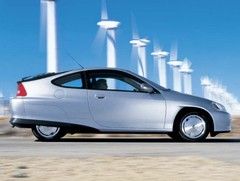 'Would Sir like a V12 with that?'
Moments after the pixels had dried on
yesterday's post about the potential annoyance of 'beeping' pedestrian safety alerts for electric and hybrid cars
, Lotus had popped into our in-box reminding us about its own HALOsonic system.
Developed in partnership with Harman International, HALOsonic is a production-ready package that wraps up all the work Lotus has been doing in active noise suppression and such, with a view to offering it to manufacturers for OEM installation on their vehicles. Apparently we can expect an announcement on the first production car to get the system within the next few weeks.
Work in this field originally centred on the active suppression of road and engine noise, but the HALOsonic package now includes things like artificial sounds for central locking systems (yawn...) and creating synthetic V8, V12 and fantasy spaceship 'engine noises' for electric and hybrid cars. (What?!!!)
That's right folks, Chevy's boffins can stick their beeps right back where they belong, because thanks to Lotus the prospect of driving a V12 or warp-drive powered eco-car is no longer a flight of fancy - and here's the video to prove it!