Hyundai has finally released full details of its forthcoming i30 N hot hatchback. Lots of details, in fact, following what has been a long gestation period for the car under the stewardship of Albert Biermann - who used to be VP of engineering for BMW's M vehicles.
Are five-door hot hatches really better?
The car has previously raced at the Nurburgring 24 hours and Biermann says that Hyundai is very serious about producing a proper sports hatchback.
The i30 N, then, is it. It'll come in two flavours - one with 250hp, or a Performance Package variant with 275hp. Both make 260lb ft.
Standard to both is a 2.0-litre, turbocharged four-cylinder engine, driving the front-wheels through a six-speed manual gearbox. There are MacPherson struts at the front and a multi-link setup at the rear. The steering's electrically assisted via a rack-mounted motor. So far, so hatchback.
The i30 N gets adaptive dampers, too, and both standard car and Performance Package look similar, receiving the usual round of highlights that earmark a hatch as a hot one: some diffuser action at the rear, red trim highlighting, aluminium pedals, sports seats and a funkier steering wheel. There's launch control, a rev-match system on downshifts and, like a VW Golf R, a resonator at the base of the windscreen to make angry engine sounds.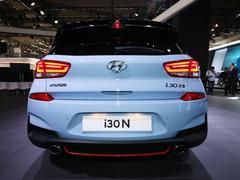 Drive is at the end of the month...
Mechanically, the Performance Package is the more intriguing proposition, though. As well as the power increase to 275hp, it gets 19-inch wheels (with Pirelli P Zeros) rather than the regular N's 18s and Michelins, a proper e-diff - an electronically controlled mechanical limited-slip item, not just a system that tweaks the brakes - and a variable exhaust valve that will, in some drive modes (of which there are five, giving differing states of suspension stiffness, steering weight, and engine response), let the 'zorst pop a bit via an 'after-fire' setting. Red calipers set the Performance Pack off. Those extras mean the Performance Pack weighs 29kg more than the standard i30 N, at 1,429kg, but does have a faster 0-62mph time, of 6.2sec rather than 6.4sec. Both top out at 155mph.
Why 'N'? The symbol represents a chicane, apparently, plus Hyundai's performance HQ is based near the Nurburgring. Hyundai says it will put an emphasis is on "affordable performance". The i30 N should cost from under £30,000 when it goes on sale this autumn.