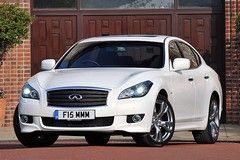 Infiniti has revealed the pricing for its new M37 5-series rival - and it's two grand less than the BMW.
The new rear-drive, V6 M37 saloon is on sale at 35,150, undercutting its BMW rival, the £37,300 535i SE by £2150.
The 316bhp M37 - which is limited to 155mph and sprints to 62mph from rest in 6.2secs - is the first of a three-tier range of M Line Infiniti saloons.
The petrol-powered M37 will be joined in October by the 235bhp, 406lb ft turbodiesel M30d, while a hybrid version - the M35h - will go on sale in spring 2011.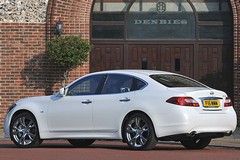 The £35,150 price is the bottom of the model's trim range. Next up the ladder is the M37GT (from £37,650), and the M37S (from £39,650). At the top of the range are 'Premium' versions of the GT and S models, and which cost £43k and £45k respectively.
If you fancy one, you'd better live quite near to Reading - because that, for now, is the only place you can buy an Infiniti in the UK. If you can bear to hang on just a little longer, however, there will be 'Infiniti Centres' opening in Birmingham, Glasgow and Central London by the end of the year...