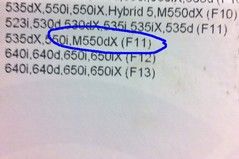 M car? Diesel? Intriguing...
As if certain BMW M Division fans weren't struggling enough at the prospect of a whole range turbocharged M cars, here's another nugget that's going to cause a bit of controversy: it looks as though diesel power could be heading for M cars.
Well, sort of. A document purporting to be a supplier label for brake pads has hit the internet, and appears to list something called an M550dX (in saloon and estate form) among a whole ream of other BMW model nomenclatures.
Now, as far as we're aware, '50d' refers to the new 3.0-litre tri-turbo (yes, you read that right) straight-six diesel that is already certain to be heading for the X6 and BMW 7-series next year and which is expected to be unveiled officially at the Frankfurt show this September.
This unit could produce up to 395bhp (and no doubt a shedload of torque), so perhaps it's only fair that, should it find its way into a 5-series, it would get some M Division recognition. Judging by the badging, this is not going to be a full-house 'M' model, but it does look to us as though it will be a bit more than just an M Sport package.
That little 'x' also intrigues us - because that means four-wheel drive...
So the first diesel M car, then? Well, probably not quite - but the oil-burning M certainly looks to be a step closer.