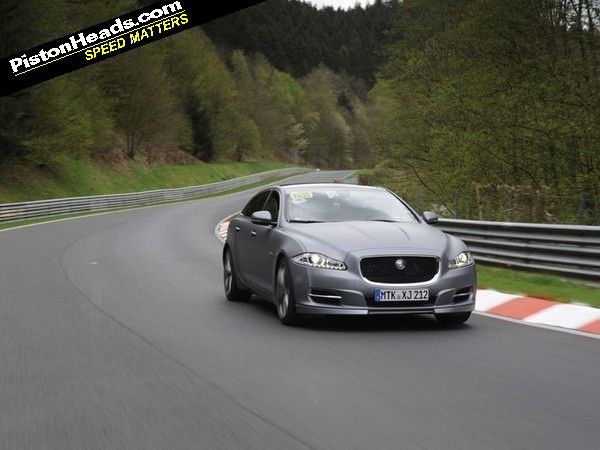 Testing Jaguars around the Nurburgring has to be one of the best gigs in the business. How do we know this? Because
we've had a go ourselves!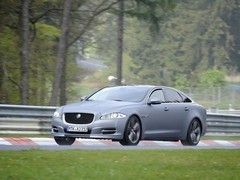 Jaguar XJ is the resident 'ring taxi
And now you can too. Yes, Jaguar is inviting four very lucky PHers for an incredible opportunity to join an all-expenses paid trip to the Nurburgring for a full day punting Jags around the Nordschleife. And all you have to do is drop us an email!
That's not all - between chauffeur-driven rides to and from the airport and a bed in the plush on-site Lindner hotel you'll get to experience the legendary Pistenklause restaurant, frequented by racing drivers, industry test teams, locals and visiting Nurburgring fans alike. Walls decorated with autographs - and the odd piece of bent Armco and bodywork - are as much part of the atmosphere as the smell of steak cooking on hot stones, Nurburgring banter and the clink of Bitburger glasses. Hopefully not too much of the latter though because the next day you'll be out for a full day on track in the capable hands of Jaguar's instructors, who'll be on hand to make sure you get the most out of your time at the 'ring.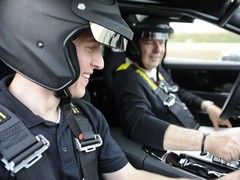 You could be sat here...
So how do you get a chance of winning all this? Simply send an email to
competitions@pistonheads.com
with 'Jaguar competition' as the subject line, making sure you include your name and address in the main body of the email.
The competition closes at 10am on Friday August 24th when we'll draw the names out of the office hat.
Please note that all entrants must be 28 years old or over, hold a full driving license and be able to get themselves to and from a London airport for the flights there and back.
Best of luck!
The itinerary for the event is as follows:
Thursday September 13:
Before 1700h - Arrival at Frankfurt airport - to be met and chauffeured to Lindner Hotel
1900h - Meet Jaguar Team at Lindner Hotel bar
1930h - Chauffeur transfers to Pistenklause Restaurant
2000h - Dinner at Pistenklause
2200h - Chauffeur transfers to Lindner Hotel

Friday September 14:
0730h - Chauffeur transfers from Lindner Hotel to Jaguar Test Center
0800h - Nurburgring Track Experience presentation
0800h - Group prepare for Track Experience
0830h - Nurburgring Track Experience - Sascha Bert driving school
1630h - Wrap-up session at Test Centre
1700h - Chauffeur departures to Frankfurt airport