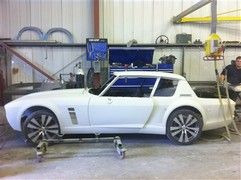 It would take a strange person to suggest that the old Jensen Interceptor, with its 6.3-litre or 7.2-litre V8 was under-engined, but it seems that there are people out there who disagree...
One of these people is Brook Anderson, Who has got in touch with us to let us know about his Interceptor - into which he is fitting an 8.3-litre V10 from a Dodge Viper.
As you can see from the pics, Brook's car is still very much an 'ongoing project', but the finished article should be pretty - how shall we put this? - interesting.
Brook's car has been stripped down to its shell by the chaps at Valley Gas Speed Shop, and has an entirely new suspension and brake set-up to help manage the 8.3 V10 and four-speed auto.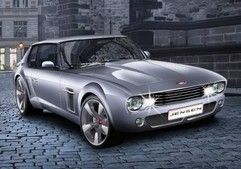 We'll update you with more info on the 'Viperceptor' as Brook and Valley Gas progress with the job, but for now, you'll just have to enjoy the pics of a truly fascinating 'work in progress'.
Oh, and if you're wondering about the wide arches, they're inspired by this sketch (right) by Keith Anderson of the Jensen Owners Club - a vision of how a 21st-century Jensen could have looked...