The production version of the Aston Martin V12 Zagato is to get its official debut in a fortnight at the Kuwait Concours d'Elegance.
The V12 Zagato, which was first revealed in concept form at the Villa d'Este show in Italy last year and which has also taken a turn at the Nurburgring 24-hour race, will be built in a limited run of 150 cars.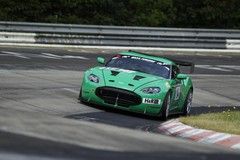 If you fancy one (and we assume that if you do you probably already have a deposit down), you'll need £330,000 to get hold of an Aston Martin V12 Zagato. And that's before the local taxman adds to the bill.
Customer deliveries of the 517hp, 420lb ft special begin late in 2012. In the meantime, we're just looking forward to seeing exactly what the finished version looks like. Outside and in...