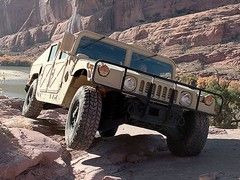 HMMWV is being phased out in favour of...
The US military is set to phase out its Mobility Multipurpose Wheeled Vehicle. Indiana-based AM General will build no more examples of The HMMWV, better known to you and me as the Humvee, after it has honoured one last order for 2620 Humvees from the US army.
The Hummer H1 road car, once so beloved of a pre-Prius Arnie, has been dead for quite a while, but don't confuse that car with the military-spec Humvee, which is still going strong. In fact, the Hummer brand is entirely independent of AM General, and Hummer's parent company, GM, is still hard at work trying to flog the road car business to the Chinese, specifically Sichuan Tengzhong Heavy Industrial Machinery.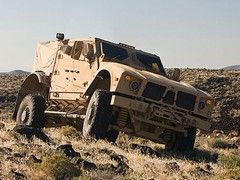 ...this, the more IED-resistant Oshkosh M-ATV
The pukka military Humvee has been in active service since 1985, when it took over from the severely-long-in-the-tooth original Jeep. Now, though, the prevalence of IEDs (improvised explosive devices) in current theatres of war - Afghanistan in particular - requires a new, more specialised and heavily armoured vehicle to help cart troops about.
The US military now requires MRAPs (Mine Resistant Ambush Protected vehicles), and the warhorse that fits this specification is the Oshkosh M-ATV. The US military made its first order for 2244 M-ATVs, worth $1.05bn, back in June last year.
It's not quite the end for the military Humvee, however, as many of the 240,000 produced in the past quarter-century are still going strong with the US army, navy, marine corps and air force. In fact, the US army alone has earmarked almost a billion dollars for the upkeep of its existing Humvees.