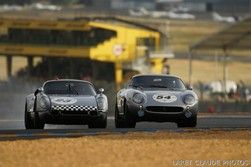 Picture credit: Claude Laret
As mentioned a few weeks ago,
PistonHeads
Camping
will be at the Le Mans Classic for the first time in 2012 thanks to pitch perfectionists 1st-Tickets.
Not sure what the Classic is all about? It's Le Mans but without the brashness, without the techno, the burnouts, the funfairs, discos and over-boozed stag dos. Oddly, it's all about classic cars, racing and racing enthusiasts, and if that thought appeals then you need to join us on site.
However, if you perfer the party atmosphere of the 24 you can join us there too!
Taking place every two years, Le Mans Classic this year happens on 6th – 8th July 2012 and covers Le Mans race cars from 1923 right through to 1979. These are split into six grids and between them they provide 24 hours of classic racing.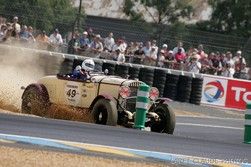 Picture credit: Claude Laret
The Classic continues to grow in popularity and is an excellent reason to come to Le Mans in July. It is expected to attract over 100,000 visitors to the circuit with 400 competing cars and 1000 drivers on the track.
As we've just mentioned, the Classic comprises a variety of races over the 24-hour period and not just one main race. This programme offers racing covering less than two hours throughout the weekend, with cars from the following periods:
1923-1939
1949-1956
1957-1961
1962-1965
1966-1971
1972-1979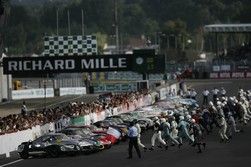 Picture credit: Patrick Pagani
As per usual, we'll be camping on Bleu Nord with 6,000 square meters of private camping offering at least 100 spaces for PHers. The site is only a short walk from the circuit, paddock and pit lane, and at the Classic this camping area is not as busy as during the 24 and offers a nice, secure base for PHers to enjoy.
On site we offer:
A private PH marquee with cash bar, fresh coffee, daily bread deliveries and phone/ camera charging points.
Marked out, reserved pitches - no need to rush, your space will be saved
Private toilets and showers
Large pitches and driver-only (smaller) pitches are also available
24-hour security and secure fencing
Driver-only and large pitch options
A range of ferry crossings are available from Dover, Folkestone, Portsmouth and Poole, helping to tailor your package.
Crossing Route
Standard Pitch
(3.5m x 10m)
 
Large Pitch
(5m x 10m)
 
Driver-only
options
Two per
car
Three per
car
Four per
car
Two per
car
Three per
car
Four per
car
Driver-only pitch
(2.7m x 10m)
Standard Pitch
(3.5m x 10m)
Eurotunnel
£295 pp
£220 pp
£185 pp
£365 pp
£267 pp
£219 pp
£449
pp
£515
pp
Ferry (Dover - Calais)
£285 pp
£215 pp
£180 pp
£355 pp
£260 pp
£215 pp
£430
pp
£499
pp
 
 
 
 
 
Track laps (eligible cars onlyclick herefor list): £139
Grandstand (stand to be confirmed): £22
Paddock Access: NA(included in campingpackage)

---
Club Enclosure and track laps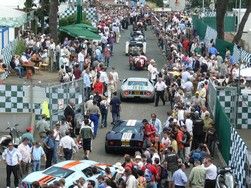 Picture credit: Peter Taylor
As one of the largest classic car events, the Le Mans Classic attracts car clubs from throughout Europe, and there will be over 8000 cars on display in the club enclosures on the Bugatti Circuit.
On Saturday morning we can offer the opportunity to drive the full Le Mans circuit as part of the "Club Parade Laps".
PH will, for the first time, have a club enclosure at the event for those that are taking parade laps or just wanting to display their car.  Initially there is space for up to 30 cars (priority will be given to those with parade laps).
For such an event there are some basic eligibility rules for parking and track laps (as set by the organisers)
Cars to be in perfect condition
Cars must be built before 1966, but a few more recently built models of certain brands can be accepted from certain manufacturers (see attached thread)
---
Event Information: Dates: 6th – 7th July 2012
Key info from programme
Friday 6th July
15:00 – 20:00
Day practices
22:00 – 02:00
Night practices
 
Saturday 7th July
08:00 – 11:00
Track laps
14:00 (approx)
Little Big Mans
 
 
Round 1
 
16:00 – 17:20
Grid 1: 1923 – 1939
17:20 – 18:40
Grid 2: 1949 – 1956
18:40 – 20:00
Grid 3: 1957 – 1961
20:00 – 21:20
Grid 4: 1962 – 1965
21:20 – 22:40
Grid 5: 1966 – 1971
22:40 – 00:00
Grid 6: 1972 - 1979
 
Sunday 8th July
Round 2
 
00:00 – 01:20
Grid 1
01:20 – 02:40
Grid 2
02:40 – 04:00
Grid 3
04:00 – 05:20
Grid 4
05:20 – 06:40
Grid 5
06:40 – 08:00
Grid 6
 
Round 3
 
08:00 – 09:20
Grid 1
09:20 – 10:40
Grid 2
10:40 – 12:00
Grid 3
12:00 – 13:20
Grid 4
13:20 – 14:40
Grid 5
14:40 – 16:00
Grid 6
For more information on the camping, or any other aspect of the PistonHeads Le Mans Classic (including booking) please click on this linkor call 01767 680119