This is what happens to a Lexus IS F when it's turned over to the fellows at Toyota Racing Developments (TRD). It's called the IS F Circuit Club Sport and it's had more than a few mechanical and aerodynamic toys thrown at it.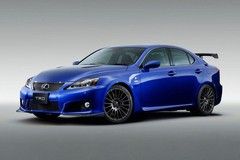 There's no more power, but those who have spent any time behind the wheel of the beefy Lexus will know that it already makes more than a decent attempt at M3-style fast saloon fun, with a glorious 423hp V8, a decent chassis and a generous side-order of hooliganism.
To that end, the IS F's mechanical mods - which in include a larger set of brakes and a TRD limited-slip differential as well as a set of performance dampers - can only be a good thing. (Though whether that LSD differs from the one fitted to standard cars since 2010 we're not sure, but we'd guess it's more aggressively set up.)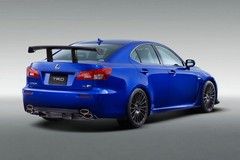 Outside, TRD has slapped on a new bonnet, front spoiler and rear diffuser, all in carbon fibre, and a (ahem) subtle rear wing. There will also be a choice of either lightweight forged aluminium wheels or magnesium rims.
As for a price, a when (or even an 'if') well...er... we don't actually know. But we look forward to finding out...